Please click to enlarge photos
We were raised on small simple farms in the sixties. My wife in southern Manitoba on a mixed plus dairy, myself on a remote cattle ranch west of Quesnel, B.C. In our teens we moved out to the towns and missed out on the agribusiness brainwashing campaigns of the seventies and eighties, but by our late twenties the city life had lost its appeal. A chance to rent a farm in '84 put us back on the land but still in a nineteen sixties agricultural state of mind.
Summerfield began suddenly one April afternoon in '87 at a herd dispersal sale in Alberta with my impulsive purchase of six registered fullblood Limousin heifers. The owner asked how I proposed to breed these heifers as I had no bull. Wanting to appear knowledgeable and having just recently heard of it I replied, "artificial insemination". Oh!!? I'll send you over some vials of semen. By the time I left the auction I had six very lively heifers to get a thousand miles home somehow, a subscription to the Limousin breed magazine, applied for a lifetime membership to the Canadian Limousin Association and registry, had a promise of a bull in a bottle to be delivered sometime later and lofty aspirations of eventually having the best Limousin breeding stock in B.C.
By '98 we had two kids, found, bought, cleared and fenced one hundred acres of raw land, built a large barn, bred up our herd,(learned that artificial insemination stuff) placed second out of one hundred young bulls from five provinces at the National Limousin Bull test in Strathmore, Alberta, inseminated and welcomed the birth of the first polled** fullblood Limousin in B.C., and were selling registered breeding stock around our area.
Over the next few years however cattle prices and the number of cattlemen began to decline. Then one day, "Mad Cow" hit the head lines. Sales and prices plunged. We realized we were going to have to do something different.
It began to dawn on us that the industrial beef process had lost a little credibility. Just maybe, folks might like to buy clean beef direct from the producer.
Our closed herd* was pure, with no exposure to any of the chemical short cuts or contaminated commercial feeds, so in 2007 we began direct to consumer beef sales. Another very steep learning curve was begun...
We now maintain a small herd of fullblood cows which we feel is the maximum naturally sustainable number for this farm at this time. As stated, We are a small, very unique producer of pure, quality beef.
* A "Closed Herd" means no other animals have joined the herd since a certain date. Our date was April 1987, when we started.

** "Polled" means a genetic trait resulting in no horns. The first polled Limousin was found in Alberta in 1988 .It was a land mark for the breed.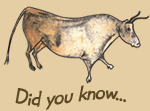 ...Limousin cattle originated in France and the breed may be as old as Europe itself!
Cave paintings of Limousins have been found that are over 32,000 years old!